A volatile start of September

In the first half of September, the market experienced high levels of volatility as the latest macroeconomic data was published and the Ethereum Merge closed in. In the first week of September, Bitcoins' price oscillated near its support level of $19.5K, this major support level was broken which consequently led to Bitcoins' price falling to $18.5K. This sharp correction was induced by a strong dollar. When the dollar started to face resistance, Bitcoin began its recovery rally. Within a week its price surged by 20% from $18.5K to well over $22K.
However, the rally was brought to a halt as the US Consumer Price Index (CPI) came in at 8,3% versus the expected 8,1% on Wednesday 13th. Financial markets corrected heavily and started pricing in a hawkish response of the Fed. At the time of writing 32% of the market is expecting a 1% rate hike. The shift in expectations resulted in corrections for the S&P 500, The Dow and Nasdaq which fell by 4%, 5% and 2.5% respectively. For Bitcoin, this resulted in a drop back to $20K which was followed by the entire cryptocurrency market.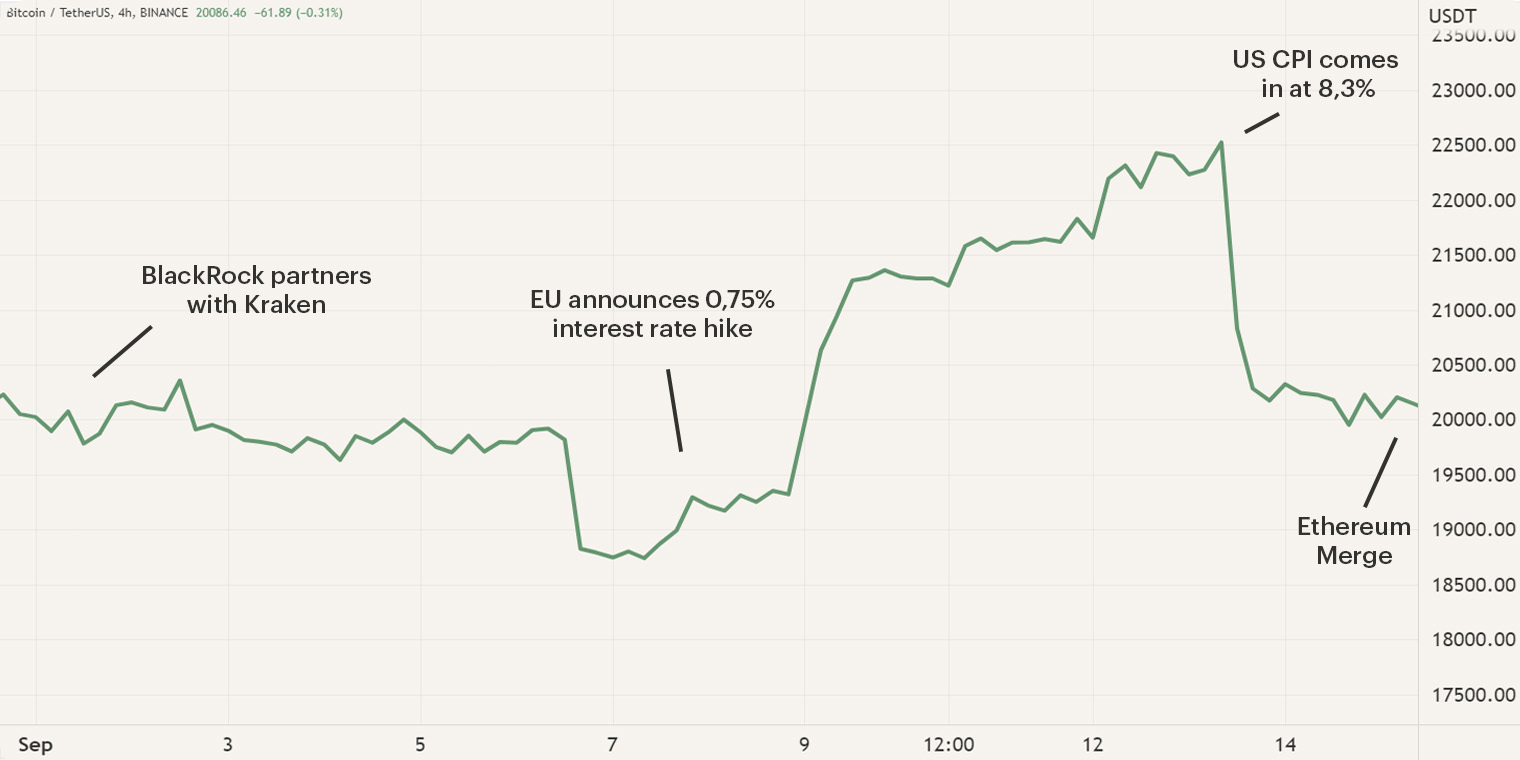 Another major factor that caused a lot of tension in the cryptocurrency market was the Ethereum Merge that took place on September 15th. As cited in previous newsletters, this upgrade of the Ethereum Network has a major impact on the ecosystem and it was therefore very important for the upgrade to go without hickups. Shortly before and after the Merge, we saw very high volatility, particularly in Ethereum's price. Fortunately, the upgrade went smoothly, a very promising development for the ecosystem. This means that as of now, the Ethereum Network uses 99.95% less energy than before. Read what other changes this upgrade brings in our previous newsletter.

BlackRock announces partnership with Kraken
In the month of August, investment giant BlackRock announced a partnership with cryptocurrency exchange Coinbase. The entrance of BlackRock was well received by traders and investors resulting in a short rally. Later that same month, the asset manager further increased its exposure to the cryptocurrency market by announcing its private Bitcoin Trust for institutional investors.

BlackRock aims to offer a reliable price for bitcoin to its investors, however, the acquisition of large sums of assets can move the market significantly and the price and fees differ per exchange. To combat this problem, the investment firm announced a partnership with CF Benchmarks, a cryptocurrency index provider, which will provide the assets and the price of bitcoin.

CF Benchmarks is a division of Payward Inc., best known for its cryptocurrency exchange Kraken. The partnering of BlackRock with various exchanges illustrates the eagerness of the investment firm to enter the cryptocurrency market. The entering of these entities will be the main drivers of further cryptocurrency adoption within traditional financial markets.

What is Dollar-Cost Averaging?

The cryptocurrency market is known for its volatility. This comes with challenges but also provides opportunities. Where traders often try to time the market, it has shown to be extremely difficult to do so. One of the oldest, simplest and potentially most effective investment strategies is Dollar Cost Averaging (DCA). By periodically scaling into the cryptocurrency market, investors experience peace of mind as they avoid the daily volatility. At Hodl we resonate with this strategy as we maintain long-only positions and operate with a long-term vision. In a downwards market, one of our strategies is to strategically increase our positions by dollar-cost-averaging.
Investors and participants very often also like to introduce this strategy to improve their positions. By periodically, for example, weekly, monthly or semi-annual, increasing their positions they are able to enter at various price levels. By doing so they avoid sudden price changes and obtain a beneficial average cost. The current market conditions present new and established investors with an interesting opportunity to enter or lower their average entry level. Would you like to know more about the possibilities? Get in touch with us through the button below.

Sign up for our newsletter to stay on top of the crypto market.