Ocean Protocol (OCEAN)

Over the last several years, data has become the backbone of many business processes. Rather than merely being a by-product of different business operations, data has evolved into a key strategic resource that provides invaluable benefits for any organization seeking to succeed. A wealth of information, on the other hand, is locked up in centralized platforms, corporations, and enterprises and is simply unusable.
The Ocean Protocol project aims to build a decentralized data exchange that can free up the data sharing economy. It connects data consumers with data providers using blockchain solutions. This allows data to be exchanged with ensured trust, openness, and traceability for all concerned parties.



Ocean Protocol's technology
Ocean Protocol allows data providers and consumers to share, find, and consume data in a safe, privacy-preserving manner. Access to the dataset is tokenized as an ERC20 token (transferable tokens that are used on the Ethereum network) and ownership of this token will provide access to the specific data set. As a result, crypto wallets can now store tokens that enable access to data, and transferring these rights can be carried out peer to peer.


Datatokens
Datatokens are custom-made ERC-20 tokens that are being used to link data assets to crypto wallets and DeFi platforms. By letting publishers install and mint datatokens, the protocol makes monetizing data easier. Due to the functionalities of Ocean Protocol's smart contracts and libraries, datatokens offer the opportunity of building streamlined data cooperatives. The goal is to make it easier for data scientists, researchers, and developers to gain access to vital data.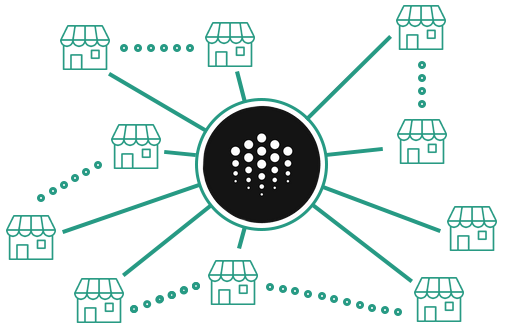 Data Marketplaces
Datatokens permit data to be transferred on the blockchain in a decentralized, trustless manner without exposing it. A dataset is turned into a data asset with its own ERC20 datatoken once it is published. The publisher has the option of determining a set price or allowing price discovery to happen. Ocean Market facilitates this latter via an Automated Market Maker (AMM). This allows the token's price to be determined by supply and demand for the dataset to which it is connected.
Ocean Protocol use-case

The key objective of Ocean Protocol is to make data linked to AI systems more accessible. They give businesses the resources they need to create and deploy their unique data marketplaces. The Ocean platform is a unique marketplace as it allows researchers, scholars, data analysts, and other parties access to more trustworthy data while also providing an extra money stream for data producers.
Ocean Protocol's primary use is its data marketplace, which allows users to purchase and sell data access. The marketplace is built on the main principle of decentralization and is not run by a single entity, which means that any data supplied belongs to the data owners and not to the platform.


Robonomics Network
A great example is a recent collaboration with Robonomics Network. Robonomics Network is a tool that allows IoT devices and robot operating systems to connect to the digital economy. These devices produce massive amounts of data that could be monetized. Ocean market provides the perfect platform for these companies to buy, sell and utilize this generated data.


The Ocean Protocol ecosystem
Ocean Protocol collaborates extensively with a broad list of contributors and partners to improve the network's core technology. Its ecosystem includes a diverse set of industries, including Energy, Finance, Automotive, Mobility, Logistics among others. Ocean Protocol collaborates with major companies such as Daimler AG, IBM Watson AI Xprize, and Roche to provide them with trustworthy and secure data exchange in data markets. This data can also be utilized by government agencies, businesses, and start-ups.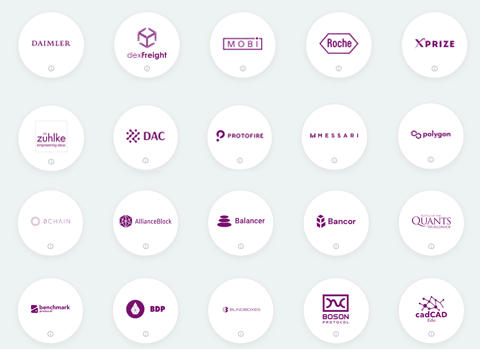 Ocean Protocol news
The last few weeks have been marked by several great developments within the Ocean Protocol ecosystem. For example, Ocean recently integrated Moonriver. This is another towards the project's multi-chain approach. As a result, Ocean is now live on Ethereum, Polygon, Binance Smart Chain, and now Moonriver.
Other strategic partnerships were closed with the Energy Web Foundation(EWF) and Fractal Protocol. Through its partnership with EWF, Ocean Protocol and Ocean Market are now available on the world's premier decentralized energy network. This expands Ocean's reach within the energy sector to international players such as GE and Tepco.

The second partnership with Fractal will help users by sharing personal data better and more securely. The main focus is therefore on identity verification in the Ocean Market.


Ocean Protocol Price Prediction
Ocean ($OCEAN) broke the psychological barrier of $0.60 on August 11, which has been serving as a crucial resistance level. As of October 19, the price continues to move within the $0.60-0.90 range, with bears defending the $0.90 zone. The bulls are trying to break resistance, and if they succeed, there is a good chance that $OCEAN may rally towards the previous all-time high.
A breakout and close with an increasing volume of $OCEAN above the $0.90 resistance will imply the possible confirmation of a bull flag pattern (in yellow), with a price target of around $1.5. The RSI in the positive range indicates the strength of buyers and supports the below-mentioned overview.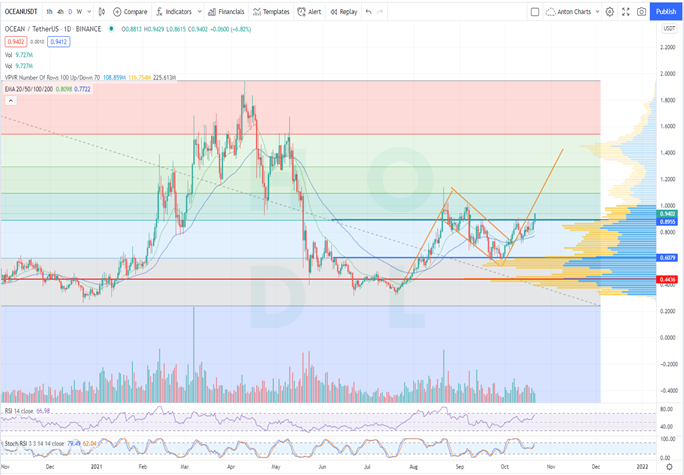 The optimistic perspective may be disproved if the $OCEAN price sinks below the $0.60 level, which may result in a drop to the next crucial support zones- around $0.50 and $0.30.
Would you like to read the full report? Our report provides an in-depth analysis of team, tokenomics, technology and more.