We are proud to announce that Axel Hörger, a former executive at Goldman Sachs and UBS, has joined Hodl Group as Executive Advisor to the board.
Axel's professional background encompasses three decades of experience in the financial sector, where he provided his expertise in some of the most influential institutions in the industry. Axel started his career at Goldman Sachs where he climbed through the ranks for sixteen years, with his last role being Managing Director for Asset Management (EMEA). His years of extensive experience in asset management and equity markets led him to serve as Chief Executive Officer (CEO) at multiple industry leaders.
He initially assumed the position of CEO of Wealth Management at UBS Deutschland AG before advancing to the role of CEO at the same institution. Consequently, he has been CEO at Lombard International Assurance and successively at Petiole Asset Management. Moreover, his leadership skills and curiosity led him to be Chairman and Co-Founder of the American International Bank Acquisition Corp and advisor in multiple industries.
As an Executive Advisor to the board, Axel will assist Hodl Group in realizing its growth and achieving its broader international ambitions and goals. He will also play a pivotal role in bridging the gap between the digital assets industry and traditional financial markets. Axel's entry into the digital assets space was spurred by an inner curiosity for this field.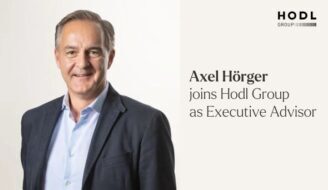 Maurice Mureau, CEO of Hodl Group, states: "It goes without saying that someone with the network and experience like Axel is an absolute asset to Hodl. Axel has consistently been at the forefront of embracing innovation and technology throughout his career, which is precisely why we are delighted that he will support us in our ambition to become the leading regulated fund manager in the digital assets space."
"I'm thrilled to join Hodl Group on its international journey. With my background in finance and technology, the digital assets industry came naturally to me. I look forward to contributing to Hodl's growth and guiding its digital assets advancements in global capital markets."
About Hodl Group
Since 2017, the Hodl Group has assisted hundreds of professional investors in diversifying their investment portfolios. Hodl Funds combines over 25 years of experience in traditional finance with over a decade of experience in digital assets. Hodl provides exposure to digital assets through three strategies: Actively Managed, Algorithmic Trading and a soon-to-be-launched Venture Capital. The offered products are registered and/or regulated in the Netherlands, Luxembourg, Spain, Gibraltar and Switzerland. The Hodl products leverage a traditional investment strategy, extended in-house research and self-developed algorithmic trading bots.
In addition to the funds, the Hodl Group consists of Hodl Ventures and Hodl Research. Hodl Ventures is the venture capital arm focused on assisting disruptive cryptocurrency and blockchain start-ups. Hodl Research is dedicated to delivering market research to share knowledge with others. Together, the Hodl Group aims to make cryptocurrency investments successful while simultaneously advancing the ecosystem's development.

Sign up for our newsletter to stay informed about the developments in Hodl and the team.