False ETF-approval causes volatility
During the first two weeks of October, we witnessed the continuation of the merging digital assets and traditional financial markets as nine Ether futures exchange-traded funds (ETFs) started trading in the U.S. These ETFs are offered by prominent financial institutions like VanEck and ProShares, which also constituted 90% of the trading volume, amounting to $16 million, during the initial four days of trading. Furthermore, the digital asset market witnessed the introduction of a bond ETF on the Base Network through tokenization protocol Backed Finance, further boosting the shift of Real World Assets (RWA) to blockchain-based environments. Furthermore, Bitcoin's price experienced high levels of volatility as news outlet Cointelegraph published a false story that the Security and Exchange Commission (SEC) had approved the Bitcoin spot ETF by IShares and Blackrock. This caused Bitcoin's price to jump to $30.000 before stabilizing at $28,500 when the news was proven false.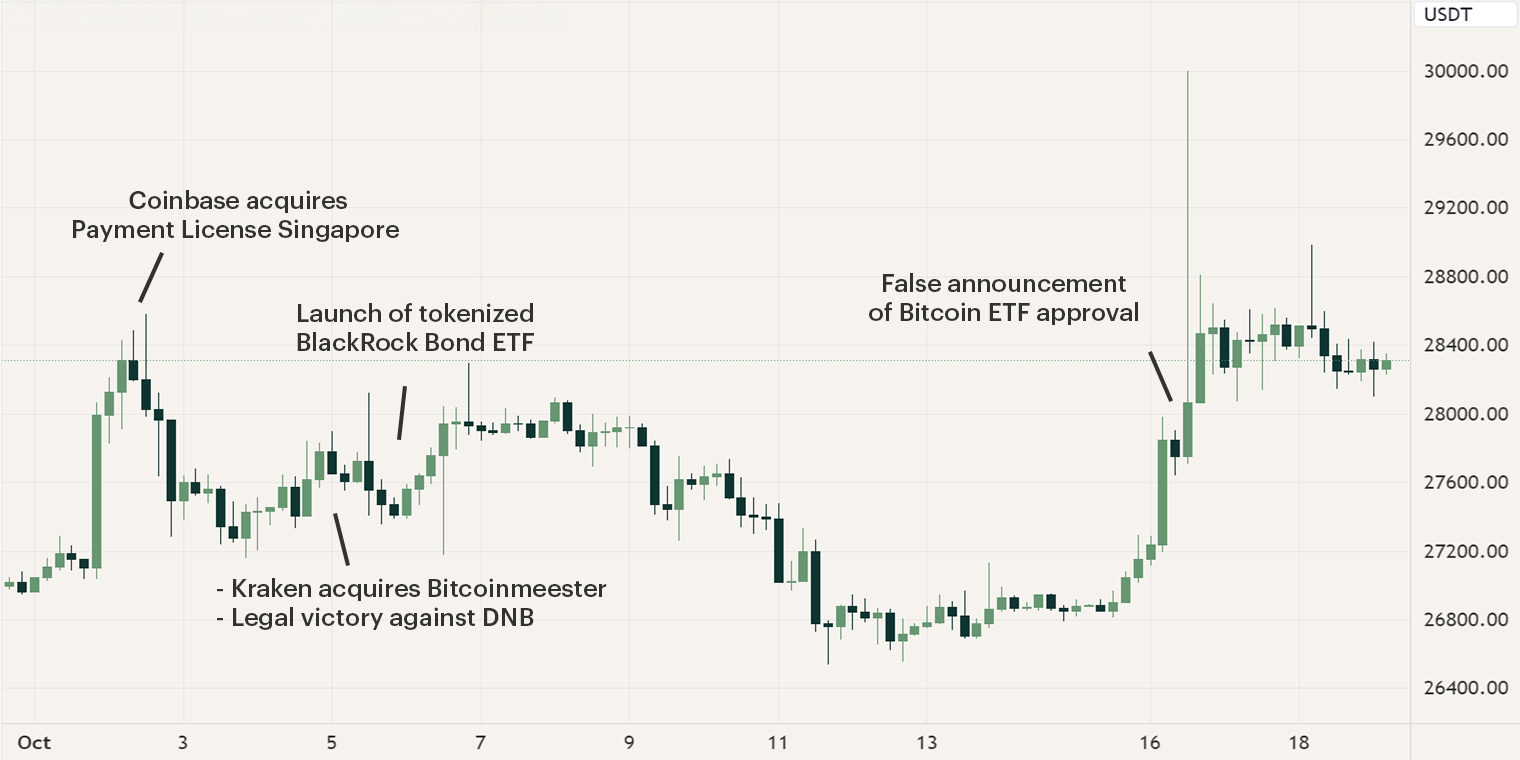 Moreover, U.S. cryptocurrency exchanges Coinbase and Kraken focus on internationalization as Coinbase obtains a payment license in Singapore and Kraken acquires Dutch cryptocurrency exchange BCM. Digital assets firms in the Netherlands achieved a legal victory against the Dutch Central Bank (DNB) for imposing excessive fees, violating European Union law.

False ETF approval causes a wave of liquidations
On the 16th of October, Cointelegraph, one of the largest crypto news platforms, reported via a tweet that the Security and Exchange Commission (SEC) had approved BlackRock's IShares Bitcoin spot ETF. The publication triggered an explosive price surge, with the Bitcoin price soaring from $28,000 to $30,000 in less than 15 minutes. In the absence of a source and further communication from other channels, suspicion grew. Not much later, it was confirmed that this was indeed a false publication. The price quickly fell back to its original level of $28,000.

In the upward move, as much as $81 million in short positions were liquidated. On the way down, an additional $31 million in long positions were liquidated. Cointelegraph announced that it regrets the incident. Certain protocols were not followed and these are being reviewed. Possibly this will also get a tailwind through regulators who want to investigate market manipulation. From an investor perspective, the event did offer a first indication of what may await during the real approval of a Bitcoin spot ETF.
Coinbase goes full force ahead
On the 2nd of October, Coinbase made a significant announcement, revealing that it had secured a full payment license from the Singapore central bank. This license, termed a Major Payment Institution license, now empowers Coinbase to provide digital payment token services to both individuals and institutions in Singapore. Notably, the Central Bank of Singapore underlined that this coveted license is exclusively granted to entities with robust anti-money laundering controls and that the majority of applicants have faced rejection. In the period since 2020, a staggering 180 firms vied for this license, yet only a mere 14 have obtained it.
Moving forward to the 6th of October, Backed Finance, a notable tokenization protocol, triumphantly announced the successful tokenization of BlackRock's iShares bond ETF UCITS. This ETF meticulously tracks a blend of short-term U.S. Treasury Bills, and is readily accessible on the Base network — a layer-2 network nurtured by Coinbase. In recent months, the trend of Real World Assets (RWA) has gained remarkable traction, with fixed-income products garnering heightened interest due to elevated interest rates. Consequently, we have observed DeFi protocols like Aave and Maker extending U.S. short-term bonds as an avenue for revenue generation.
Developments within the Dutch cryptocurrency ecosystem
On the 5th of October, a court in Rotterdam ruled in favor of eleven Dutch firms as the DNB had charged excessive fees. In May 2023, the eleven Dutch firms announced that they had sued the DNB as they believed the regulator charged excessively than necessary. Previously, the costs incurred by the DNB for supervising the companies were fully charged to the crypto firms, this amounted to €1,7M in 2020 but this accrued to € 3.9M in 2023. The Dutch court ruled it unjust that the crypto firms should pay for the entire amount and that the DNB can only charge a certain amount. As a result, the excessive charged amounts during 2020 and 2021 will be returned.
On the same day as the ruling, the market witnessed Kraken's expansion into the Dutch market. This move was marked by the exchange's announcement of its acquisition of Coin Meester B.V., also known as Bitcoinmeester (BCM). This strategic acquisition is a key component of Kraken's plan to fortify its presence in the Dutch market and to expand its operations throughout Europe. The firm emphasized that this acceleration of European growth aligns with the establishment of the Markets in Crypto-Assets (MiCA) regulatory framework. Kraken also underlined its commitment to nurturing business growth in strict compliance to European regulations.

Team expansion
This month, we welcome a new addition to the Hodl team. Our marketing department is being strengthened with a new intern: Baz Satar Mahmod. Baz will be assisting the marketing team for the next five months, and in addition, he is working on his graduation assignment.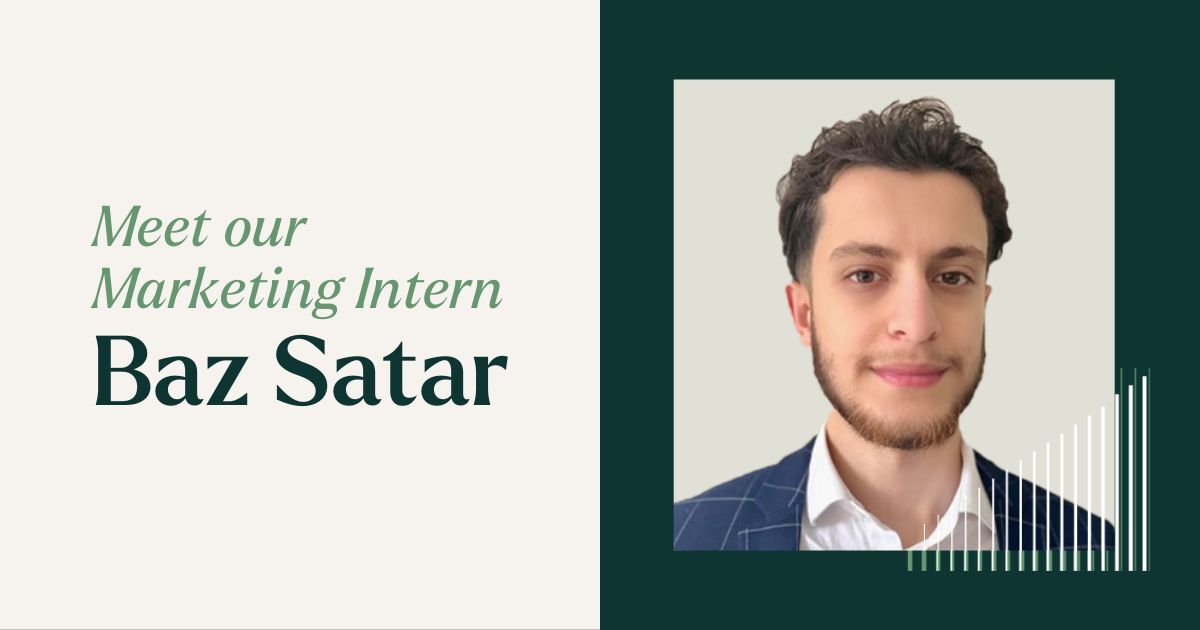 Baz: "Since 2018, I've been active in financial markets, investments, and the emerging world of FinTech. Recently, I started my internship, and I couldn't think of a better place to do it than at Hodl. Hodl's profound expertise in the market and industry immediately appealed to me. I'm motivated to apply my knowledge and skills to support Hodl with my internship assignment and contribute to the success of this company. Alongside the Hodl team, I look forward to exploring new opportunities and strategies in the world of digital assets."
Nominated for the Cashcow Awards 2023
We are proud to announce that Hodl Group, for a third year in a row, has been nominated for the Cashcow Awards 2023 in the category of Best Dutch Crypto fund. The Cashcow awards are an initiative of Cash magazine, cashcow.nl and investor club Bull Up. Every year, the committee awards organizations that are the best in their field, and after an eventful year we are pleased to be nominated.
To proceed to the next round, we would highly appreciate it if you take the time to cast your vote for Hodl. You can find Hodl's nomination at the 9th question. If you don't have a preference for the other questions, you can simply skip those by voting N.V.T. (Non-applicable). Cast your vote through button below!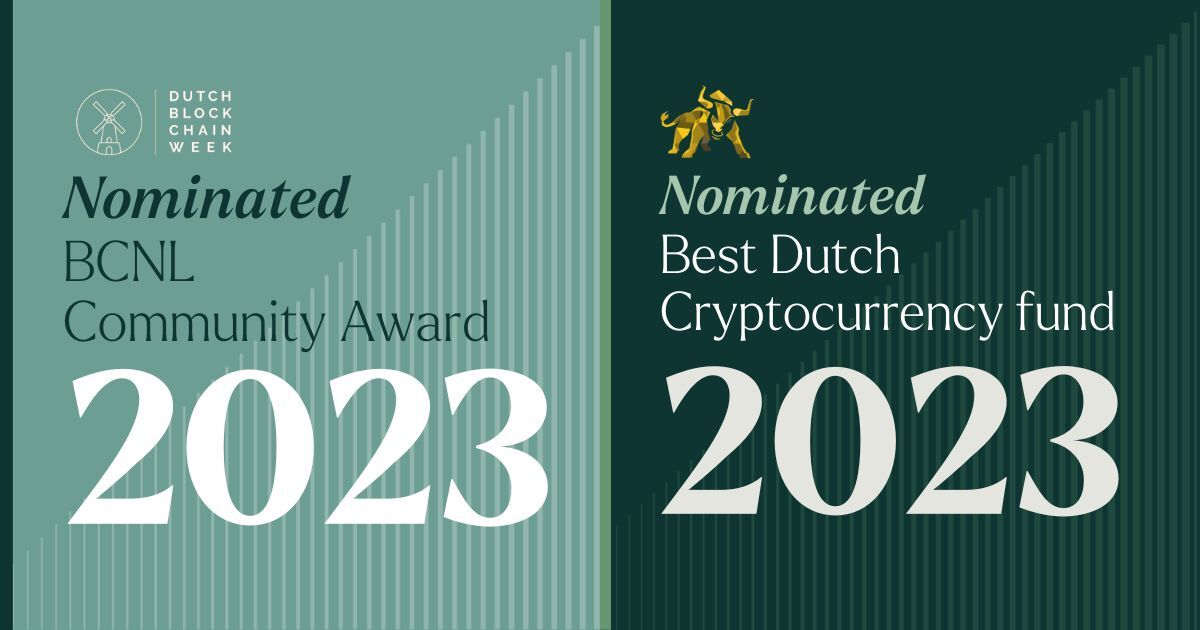 Nomination for the BCNL Community Award
In addition to being nominated for the CashCow Award, we are delighted to announce we are also nominated for the BCNL Community Award. The BCNL is a foundation that brings together the Dutch blockchain ecosystem and organizes various events throughout the year, such as the BCNL Meet-ups in major cities. This is where enthusiasts and developers come together to share their passion and knowledge. With Hodl, we are nominated for the BCNL Community Award, which is dedicated to the contribution made to the Dutch ecosystem. You can cast your vote via the button below. We would really appreciate your vote for this award as well.
Sign up for our newsletter to stay on top of the crypto market.